Moments to Treasure: Creative Ways to Capture Your Baby's First Year
Your baby's first year is precious. As parents, capturing life's milestones during this year is a must. These moments can be cherished for a lifetime –serving as a reminder that you had once a little bundle of joy when they're all grown.
Capturing these moments may not always be easy, particularly with the fast-paced nature of our lives today. We are always running around with never-ending chores or taking care of our various businesses.
In this article, we will give you some ideas on how you can capture your baby's first-year moments effortlessly.
Explore the best ways to make sure you keep your baby's first year in a pocket full of memories. Read on!
Take Monthly Photos
Taking monthly photos is one classic way to capture your baby's growth throughout its first year. This way, you will be able to document the changes in their physical appearance as time passes by. A pediatrician will most likely recommend this as well.
Choose one and the same location for a photoshoot.
Look for an area in your home with good natural light and a simple background. This ensures that your baby is the focus of the photo and that the background doesn't distract.
      2. Use props or make your baby wear unique outfits.
Props and even themed outfits can add a fun and unique touch to your monthly photos. Use items that relate to your baby's age, such as stuffed animals or toys. Consider dressing them up in clothes with milestones on them, such as ones that depict their age. For example, a top or onesie that says, "I'm three months old!".
You can consider putting a unique spin on monthly photos with basic craft items. A colorful sheet or cloth, felt paper, plastic tubing, and a few toys can do the trick.
      3. Get down on your little one's level.
When taking the snap, be at the eye level of your baby to capture their expressions and show their perception of the world.
     4. Use the same spot in taking photos.
Take photos of your little one in the same spot each month to create a consistent look. This helps you see how your baby has grown and changed over time.
     5. Be consistent with the time you take photos
Be selective of the time of day you take photos. Choose what works best for your baby and stick to it. This ensures that your baby is in a good mood and cooperative during the photo session.
     6. Let your baby be –a baby.
Avoid forcing your baby to pose or to have a certain expression. Just let them be themselves and capture their natural expressions.
     7. Use the right camera,
You can use your phone's camera to take shots, especially candid ones. But it is a good idea to invest in a camera capable of capturing high-quality images.
It's okay to sometimes feel frustrated because you think your shots are not that perfect. Keep in mind that candid shots still make the greatest pictures.
For instance, your baby might have one stuffed pal which he can't live without. Capture cuddly moments with his fave pal every month, then you'll end up having a collection of month-by-month images that document the bond between the two buds.
Regardless of the kind of images you take, it's always the idea of having something that you can look back to when your little one has grown up.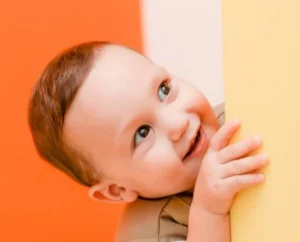 Create A Time-Lapse Video
Another fun way to document the growth of your little one in a year is through a time-lapse video.
All you need is to take a bunch of photos, or short video clips will do, in the same location, and at the same time regularly. For instance, you can do this weekly or monthly. You can then compile and make them into a single video.
You will be surprised at how your baby has grown just over the first year alone. A good pediatrician will tell you that you can do this also to keep track of your baby's development. Here are a few tips:
Use only one location.
If you want to work wonders in creating a video that is time-lapsed, you have to use only one location in capturing the shots. Choose a spot with good natural lighting to get the best shots. The key here is to use the same location each time.
     2. Time interval matters.
Some parents take weekly photos while others prefer monthly. It's up to you to decide how often you want to take photos or videos of your little one.
     3. Take a video.
Aside from photos, you can also use mini videos in your overall time-lapse video. Keep the same angle and distance in capturing the video.
    4. Track the time.
Be keen on the time you take the video. From there, take videos at the same time each week or month.
    5. Be consistent in taking the shots…and editing your video. Here are some tips to help with this:
Invest in a tripod: Regardless of whether you use your camera phone or not, your shots will be better when your hand is still. Better yet, use a tripod to ensure the camera is steady. This way, every shot will be framed with uniformity.
Keep the lighting consistent: For better results, keep the lighting consistent. Any drastic change in the lighting is easily noticed in the final video. Use props to add a personal character.
Keep camera settings consistent: The settings on your camera should be the same each time you take a shot.
Use video editing software: Import the video shots into video editing software. You can find many free and premium options on the internet.
Edit the final video: You can achieve a better final output by editing the combined video. If you have mini videos, it is best to trim them to the same length. The brightness and contrast of the images also matter. It's also a good idea to add music or captions.


6. Go ahead, and share your video.
After all the edits are done, there is only one thing left - share your video!
Have fun when making videos that are time-lapsed and just enjoy the process - treating it as a special quality time with your baby.
Create Handprint and Footprint Art
To capture your baby's size and growth during their first year, consider handprint and footprint art. Trust us, many parents enjoy this classic and timeless approach.
Try using paint or ink pads to create unique and memorable prints. The goal is to make a set of prints at the beginning of each month. This will let you see the gradual growth of your little one over time.
Also, explore and get creative with how you display the print. You can frame them or make a collage. You can then use these works of art as part of your home décor, reminding you of your baby's first year.
But check the materials you use for the handprint or footprint art. These should be non-toxic and safe for your baby.
Make a Memory Box
Another great idea to capture the first year of life of your little one is to use a memory box. This box is where you can keep certain physical mementos your baby used during their first year.
For example, hospital bracelets, first outfits, and special toys can all be part of your memory box. The best part is knowing that all the sentimental items of your little one are secure in one place.
Choose a sturdy container to protect the baby items you keep. It's also a good idea to decorate your box. Make it extra special for your baby to appreciate it when they're grown.
Some decorative ideas you can do include imprinting your baby's name or adding separate compartments to make it more organized. If you choose the latter, you can then label each compartment. Also, you can add notes to help you remember what each item is for or when your little one used it.
When you look back on the memory box several years after your child is grown, you will be taken on a trip down memory lane –a very nostalgic but sweet trip, that is!
Use Milestone Cards
Capture important moments in your baby's first year using milestone cards. After all, they are fun and you can be as creative as you want to be.
Often, these cards highlight the different milestones of your baby, such as their first smile or first steps, and can be used to mark special occasions, too. You can explore a variety of designs online, or even better, create your own DIY cards.
There are many ways to get creative when using milestone cards. For instance, include them in your monthly photo shoots, or as props in other photos. Alternatively, you can display them in a scrapbook or a keepsake with all of your baby's milestone cards.
One tip for using milestone cards is to take photos in natural light to avoid harsh shadows. Add a personal touch to the cards by using stickers or embellishments.
Whatever you decide, milestone cards are a great way to capture those unforgettable moments in your baby's first year.
Baby's First Year Is A Lifetime To Cherish
We've covered some creative and meaningful ways to capture your baby's first year. 
From monthly photos to handprint and footprint art, videos that are time-lapsed, milestone cards, and memory boxes, these ideas offer unique ways to document your baby's growth and milestones.
You don't have to create perfect moments–just remember to have fun. Try the above ideas and share your experience with other parents too!