The Top 10 Strollers Every New Mom Should Consider
For a new mom, purchasing a stroller is crucial. It is a necessary item that affords convenience as you navigate through activities with your child. Selecting the perfect stroller from the abundant options available on the market can be a bit challenging.
Fortunately, we have created a compilation of the top 10 strollers that every new mom should contemplate purchasing.
    1. UPPAbaby Vista
Many mothers choose the UPPAbaby Vista as their preferred stroller. It is known for its adaptability and can be utilized from infancy to 50 pounds. It includes a bassinet, perfect for newborns, and can later be adjusted to a toddler seat as your child develops.
Additionally, the UPPAbaby Vista boasts an extensive storage compartment, adjustable handlebars, and a simple one-step fold design.
    2. Bugaboo Cameleon
The Bugaboo Cameleon presents itself as a trendy and long-lasting carriage that can accommodate a weight of 37.5 pounds from birth. With the added feature of a reversible seat, your infant can engage in eye contact with you or discover his surroundings.
The stroller features a spacious bassinet, a wide canopy, and an adjustable handlebar to maintain a comfortable grip. Its straightforward maneuverability and single-handed folding mechanism make it easy to use.
    3. BOB Revolution Flex 3.0
Active mothers find the BOB Revolution Flex 3.0 stroller their perfect choice. With its robust build, this stroller can handle even the toughest terrain with ease. It has a suspension system and a swivel front wheel that afford a smooth and comfortable ride.
The spacious canopy and reclining seat, equipped with a 5-point harness, ensure maximum comfort and safety for your child.
    4. Baby Jogger City Mini GT2
For parents residing in the city, the Baby Jogger City Mini GT2 is a perfect choice for newborns and infants up to 65 pounds. As a lightweight and small-sized stroller, it's quite easy to carry around and stow away.
Its wide cover gives full protection from the sun, and the adjustable handlebar permits comfortable steering. It has manual brakes that give added comfort to the parents. Perfect for those who don't like to limit their mobility through challenging terrain.
    5. Graco Modes ClickConnect
The Graco Modes ClickConnect offers endless possibilities as a stroller that is appropriate for use from birth to 50 pounds. The seat is reversible, allowing your child to face you or the surrounding environment.
The stroller also includes a bassinet, a one-hand fold function, and a generously sized canopy. Since the Graco Modes ClickConnect is compatible with all Graco ClickConnect infant seats, it's simple to move from the vehicle to the stroller.
    6. Chicco Bravo LE Trio Travel System
The Chicco Bravo LE Trio Travel System bundles a stroller, a car seat, and a base for seamless travel convenience. Its stroller is adaptable from birth to 50 pounds and highlights a reversible seat, a roomy canopy, and a straightforward one-hand fold.
The accompanying car seat fits infants as heavy as 30 pounds and firmly fastens onto the stroller. Ideal for busy mothers seeking convenient transportation solutions.
    7. Thule Urban Glide 2.0
A fabulous choice for moms fond of outdoor activities, such as jogging and hiking, is the Thule Urban Glide 2.0, a sturdy and lightweight stroller suited for all-terrain use. It has a suspension system, air-filled tires, and a swiveling front wheel for a smooth ride.
This stroller also comes with a one-handed fold, an adjustable handlebar, and a large canopy.
    8. Britax B-Free
The Britax B-Free is an adaptable stroller that can be utilized from infancy until 65 pounds. It is tri-wheeled which affords superb control and the convenience of a single fold for trouble-free storage and transport.
This stroller is equipped with a sizable shade, a side-to-side seat, and an adjustable handlebar with seven different positions. With compatibility for all Britax infant car seats, the transition from car to stroller is made effortless.
    9. Joovy Caboose Too Ultralight Graphite
A fantastic choice for families with more than one child, the Joovy Caboose Too Ultralight Graphite Stroller is lightweight and compact. It has a stand-on platform, which allows an older child to ride along with the younger sibling.
This stroller has a large canopy, a reclining seat, and an easy one-handed fold option. It is versatile and compatible with most infant car seats, making it an ideal option for families with a newborn.
    10. Evenflo's Pivot Xpand Modular Travel System
The Evenflo Pivot Xpand Modular Travel System presents a comprehensive travel solution for new moms. Comprising a stroller, car seat, and base, it accommodates single and double-mode usage, with the ability to enlarge as your family does.
Its reversible seat, expansive canopy, and one-handed fold afford added convenience. The car seat best suits babies up to 35 pounds and attaches to the stroller with ease. For new moms seeking versatility and adaptability in a stroller, this is an excellent choice.
How To Choose the Right Baby Stroller
Safety and comfort are the top priorities when choosing what baby stroller to purchase. However, faced with numerous options on the market, you might be confused about where to begin.
Nevertheless, here are some important factors to consider when selecting the right stroller for your baby.
Age of Baby
Consider a stroller that fully reclines or transforms into a car seat, depending on the age of your baby.
Lifestyle
Think about your daily routine and the intended purpose of the stroller. Would you require the stroller for long strolls, frequent getaways, or running with your little one?
Size and Weight
Ensure that the stroller you choose is ideal in terms of size and weight, allowing you to effortlessly maneuver it. This is particularly important if you intend to utilize it in packed areas or when traveling on public transport.
Maneuverability
Try the stroller's agility to make certain that it can be easily handled and steered in confined areas.
Safety Features
Ensure the stroller comes equipped with safety measures such as strong frames, adjustable brakes, and five-point harnesses.
Storage Space
Calculate the storage capacity required to accommodate all your significant essentials, including snack packs and diaper bags.
Budget
It is advisable to establish your budget first since strollers come in a variety of price ranges that cater to different budget levels, from economical options to extravagant luxury models.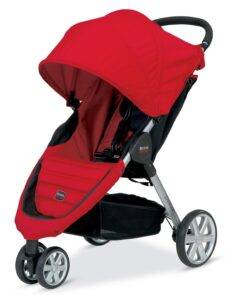 Baby Stroller Safety Tips for Parents
As a new mom, nothing matters more than the safety of your baby. It requires careful planning to purchase a baby stroller. The market offers countless models, making it hard to decide which one will suit your family.
Apart from budget and lifestyle, safety features must be a top priority when selecting a stroller. Here are some essential baby stroller safety tips for parents:
Comply with Safety Standards
The stroller should satisfy the criteria set by the American Society for Testing and Materials (ASTM) and bear the approval stamp of the Juvenile Products Manufacturers Association (JPMA).
Matches the Child's Developmental Age
Some strollers are designed for newborns, while others are fit for toddlers. Ensure that you pick the one that suits your child's age and stage of development.
Use the Safety Harness at All Times
Whether for a short walk or a long outing, secure your baby with the stroller harness at all times.
Avoid Bags and Other Items at the Handlebars
Bags and other stuff add undue weight to the handlebars, chances are the stroller will tip over and compromise your baby's safety.
Take Note of the Weight Capacity Set by the Manufacturer
Typically, there are set weight limitations for most stroller types. Be mindful of these specifications and follow them accordingly.
How to Maintain and Care for Your Baby Stroller
As with any other baby gear, the stroller requires the utmost care and maintenance. It should be long-lasting and safety-proof. Here are a few tips to keep it in good condition at all times.
Regularly check the stroller's brakes, frame, and wheels for wear and tear. If any parts show signs of damage, replace them right away to prevent any potential safety risks.
To prevent the stroller from tipping over and causing potential damage, don't overload it with heavy bags or accessories. Follow the weight limit guidelines provided by the manufacturer.
It is a good practice to read the manual before attempting to do any maintenance or cleaning on your stroller. In this way, you will learn how to care for it according to the manufacturer's recommendations.
Some strollers can be cleaned with just a moist cloth, while others need specific cleaning supplies. To prevent damaging the stroller's frame or fabric, refrain from using forceful cleaning agents or rough materials.
Observe the correct storage procedures. When not in use, keep the stroller free of moisture or dust by storing it in a dry place. There are stroller covers you can buy as an accessory that can safely secure it from the outside elements during storage.
For your child's safety while in the stroller, always make use of the safety straps. Never leave your child unattended, particularly when near water, stairs, rough terrain, or sloping ground.
Choose The Best Strollers For Your Baby
Making an informed decision about your baby's stroller matters. It greatly impacts your daily routine, easing things up. The top ten picks are fantastic options tailored for new moms like you. Each stroller has unique features that cater to different family lifestyles and baby requirements.
We, at Omega Pediatrics, hope this article gives you an informed decision that helps you in your quest to find the ideal stroller for your baby. We send our best wishes for your journey as a new mom.