Building a Trusting Relationship with Your Child's Pediatrician
Perhaps it's about time to talk about finding the perfect pediatrician for your little one. An excellent pediatrician emphasizes building a solid relationship with their patients.
Being comfortable with your pediatrician means that you are at ease in giving them the information they need about the health status of your child. This translates to the doctor being able to provide the necessary treatment plan.
Plus, when your little ones are at ease during their visits, check-ups and procedures tend to go a lot smoother! But how do you find that magical pediatrician who just "gets" you and your family? The first step is finding someone who clicks with your personality.
Choose a pediatrician who shares the same views as you on healthcare matters. If you find one that has an opposing view, he should still be able to listen to you and address your concerns.
The right doctor for your child may be hard to find, but once you do, you will find that establishing a trusting relationship with them is much easier. In the end, you will work together more effectively to find strategies to ensure the health of your child.
The Importance of Open Communication
Doctor-patient consultation is extremely important and cannot be overstated. The missing link that is often overlooked is the importance of open communication between the two as well. After all, this will become the basis of health interventions.
Improved Information Sharing
A trusting relationship between a pediatrician and your child will improve information sharing. This enables your child to take responsibility for their health. When kids are in control of their health, it generates wonderful outcomes.
Pediatricians also strive to implement interview techniques that foster support and guidance. In this way, they can recognize problems better and work toward solutions that will benefit the entire family. So parents, know that doctors encourage you.
Work with your good pediatrician harmoniously to build a trusting relationship geared toward the best health results. But, also try to make it as fun and positive as possible.
Increased Diagnostic Accuracy
The doctor needs to know all the details about the symptoms, including the medical history, that your little one manifests to come up with a proper diagnosis. With all the details, he will be able to give an accurate diagnosis, leading to an effective treatment plan.
No one knows your little one better than you do! Speak up if anything concerns you. You are working with your child's pediatrician. With teamwork, your child will receive the best care possible.
Improved Patient Understanding
Doctors take time to listen to your concerns and explain things in a way that's easy to understand. This makes all the difference to improve patient understanding. Open communication enables you to understand what your child's pediatrician is saying.
Hereon, you will be in a better position to decide on the next steps regarding your child's treatment.
Better Adherence to Treatment
Working together with your child's doctor will enable you to come up with a good treatment plan. This happens when there's open communication during consultations. You will be braver in asking questions to your doctor if there is trust.
Your doctor will explain better. But sometimes, sticking to a treatment plan can be tough! This is where open communication comes in. If you don't agree or you want more details, you will be able to voice it out.
Enhanced Overall Health Service Experience
Sometimes, going to the pediatrician's clinic to seek consult can be stressful. Having open communication with your child's doctor is the key to mitigating stress. When you ask what's bothering you, the doctor will answer them appropriately.
When you feel comfortable with your child's pediatrician, your little one will sense it too. This means they will always look forward to seeing their doctor rather than dreading the experience.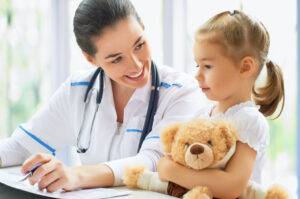 Establishing Rapport with Your Child's Doctor
Be present.
Attend appointments with your child and actively participate in discussions.
2. Respect the time of the pediatrician.
As much as possible, always arrive on time for the appointments. When you need to cancel, notify the doctor or their staff beforehand. Always practice respect and kindness with the doctor and their staff.
3. Practice open communication.
During your doctor's visit, don't be afraid to share your concerns or even observations. You are also encouraged to ask questions. If possible, motivate your child to do the same.
It's a good idea to list down your questions before the appointment. You can also show any relevant medical records or medications.
4. Be honest.
To have peace of mind that you will obtain an accurate diagnosis, you have to be honest with the doctor. Explain the health history, including the symptoms and medications taken. The doctor is in a better position to know what's going on.
5. Listen attentively.
It is not enough that you ask for explanations. What's more important is that you listen attentively to their answers regarding the concerns you have raised. If you can, take notes too!
Aside from this, show some appreciation to your child's doctor for rendering their time, care, and expertise. Even a simple thank you will mean a lot.
6. Build a relationship.
It is a good practice to follow up with your child's doctor whenever necessary. This means scheduling regular check-ups or follow-up appointments.
Fostering a Collaborative Approach to Healthcare
Being a parent can be tough. You face various challenges in raising a child, which include health-related issues! The good news is that there's always help available.
Being on top of your child's health, you will benefit from all the help you can get. You may need to work with other parents or families, or with your child's school and doctor, all to support your child fully.
But as your child grows, their healthcare concerns will be different too. You may need to think of a dynamic approach that will change as your kid's needs change.
And, if your child is diagnosed with a medical condition, you need to be in touch with various caregivers, all bound together to make a significant difference in his life, making sure that everyone is on the same page. Teamwork makes the dream work, right?
Collaborating with pediatricians and other healthcare experts will support your child's well-being. Also, you will find it easier to make decisions.
Team-Based Care in Pediatrics
Most pediatricians practice a team-based approach to healthcare. This means that they will primarily work with you and your little one to help you achieve your healthcare goals.
But working together doesn't end the moment you step out of the doctor's office. Rather, your pediatrician will also coordinate with other doctors when necessary. This means they may need to get in touch with teachers and therapists too.
You can consider this as a superhero squad all working together, with you and your child as the primary members of the team. Sounds good? Since there should be no stone left unturned, all folks with different areas of expertise should be present.
These professionals will work with you, whether just your pediatrician or a wider network of experts. All are on the same page through clear and open communication.
Encouraging Your Child to Engage with Their Pediatrician
Infants
Your little one is growing and learning every day, so ensure their doctor visits are positive experiences that foster trust and security. Babies develop trust by using their senses, so use those senses to your advantage.
Smile and speak softly to your baby, and play some calming music or musical toys to soothe them.
A gentle touch can work wonders, so have someone your baby knows hold them during the visit if possible.
Have some fun, like singing or making silly faces. You can also play peek-a-boo for distraction from any stress.
Breastfeeding during the visit can also provide comfort and security.
Toddlers
In the toddler stage, your child becomes more independent and learns self-control.
Ask your pediatrician if someone your child knows can be with them for support. Then, let your child sit on your lap if allowed.
Keep choices realistic. You can ask simple questions like, "Which arm would you like to use?"
Distraction is a great tool. Try "magic wands," singing, or reading books with your child.
Explain what the doctor or nurse is doing using simple words your toddler understands. Avoid scaring your child and focus on what they will see, hear, or taste.
Tell your toddler about the doctor's visit no more than a day in advance for them to have time to process it.
Preschoolers
Bring your preschooler into the clinic room with a familiar person, often, this is you. And if they want to sit on your lap, that's perfectly fine.
Give realistic choices appropriate to their age. For example, "Would you like the nurse to listen to your heart first or to look in your ears first?"
Get your preschooler involved! They can help the doctor or nurse by holding things or even opening Band-Aids. And let them choose their favorite distraction technique!
Read books together about going to the doctor and let your preschooler play doctor by practicing on a doll or stuffed animal. You can even ask the doctor to do the exam on the toy or a caregiver first!
School Age
Positive reinforcement usually works. Tell your child that you are proud of them.
Prepare your child for the visit in advance so they will know what to expect. Trying to answer their questions. But don't make promises that you can't keep, like "no shots today".
Give your child some control over how they cope with the visit. They can choose to read, take deep breaths, use headphones to listen to music, or hold your hand.
It's fine for your child to cry, but remind them that they need to hold during the exam.
Teens
Have some privacy with the doctor during the exam.
Inform about the upcoming visit at least a week in advance.
Give your teen the power of choice. Let them choose a coping technique that works for them, such as watching the procedure or practicing relaxation techniques.
Your teen might be more concerned with body image, privacy, and peer relationships than younger children. Show them that you respect their independence and decisions and that you are there to support them every step of the way.
Trusting your child's pediatrician goes a long way!
When you establish a trusting relationship with the pediatrician of your little one, you're on top of your child's health. Open communication is the key.