A Parent's Guide to Preventative Care in Pediatrics
When reflecting on your primary healthcare provider, you may associate them with providing customary preventative care services, such as attending to prevalent ailments, performing checkups for your children's well-being, and conducting recommended health screenings.
Primary care physicians provide these functions and play an exclusive role in helping patients manage chronic ailments and maintain optimal health.
However, prevention is better than cure. Therefore, at Omega Pediatrics, we strongly recommend preventive care in pediatrics for both you and your children to safeguard optimal health.
Importance of Regular Checkups
Pediatric preventative health care involves proactive measures to ensure a child's health and well-being. It includes well-child visits, early childhood preventive care, and an immunization schedule.
Routine checkups with your child's doctor are crucial for maintaining their overall well-being despite their current health status. These checkups aims to achieve the following:
Helping Your Child to See More Clearly
Children fail to acknowledge any issues with their eyesight, despite failing vision screenings. This is due to gradual vision changes that cause them to adjust to a blurry world.
Your pediatric clinic provides vision screenings during checkups These screenings offer a simple approach to securing your child's eyesight. If your child has difficulty seeing, the pediatrician refers you to an eye doctor for further evaluation and treatment.
Spotting Hearing Problems
Problems in hearing develop slowly, but they significantly impact your child's life. These can negatively affect academic progress, making it challenging for children to make friends. Moreover, hearing problems may even be misinterpreted as behavioral issues.
For example, if your child can't hear his teacher's instructions, it will be impossible to follow them (correctly!). Therefore, hearing screenings are included in routine checkups to detect hearing issues early and your kid receives the necessary assistance.
Protecting Your Child from Common Ailments
The pediatrician will review their immunization history. If there are missed vaccine, it could be administered during the appointment. Immunizations protect children from illnesses such as whooping cough, meningitis, polio, measles, and diphtheria.
Identifying Chronic Diseases and Growth and Development Issues
There are chronic diseases, such as asthma, diabetes, and epilepsy, that can develop during childhood. But, regular checkups ensure that these conditions are diagnosed and treated promptly.
Your kid's pediatrician will also evaluate your child's growth and development to monitor they they meet all milestones. This comprehensive assessment helps detect potential issues early on, allowing for timely treatment and management.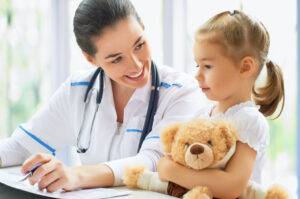 What to Expect During a Preventative Care Visit
Regular visits with a healthcare provider are vital for infants. This is because growth and development happen rapidly during the first two years of life. Usually, your baby's first visit occurs soon after birth.
Your pediatrician will schedule a checkup shortly after the baby is brought home from the hospital. Following this, a typical schedule for infants, based on recommendations from the American Academy of Pediatrics, is the following:
By 1 month
2 months
4 months
6 months
9 months
1 year
15 months
18 months
2 years
Physical Checkup
Healthcare providers will conduct a multifaceted physical examination where an infant is taken for a medical check-up. This involves taking measurements of height, weight, and other critical data that provide a snapshot of their physical well-being.
Additionally, your provider will assess your child's growth and development to ensure they meet expected milestones. These entail a battery of tests to determine that the child's sensory faculties are developing correctly.
The growth chart provides an excellent starting point for discussing your child's health, allowing parents to pinpoint any areas that require attention.
Vaccinations
Immunizations and preventative care are a cornerstone of such visits to safeguard children against diseases.
Information About Your Child's Well-being
Communication is vital during well-baby visits. The attendance of both parents is recommended since these are an opportunity to establish a relationship with the pediatrician and seek answers to any questions they may have.
Parents expect to receive information on various topics, ranging from normal development and nutrition to sleep, safety, and prevalent illnesses. It would help if  parents draw up a list of questions before the appointment to optimize the session's value.
Checkup For Illness And Developmental Concerns
Apart from the scheduled well-child visits, taking the infant to a healthcare provider is a must if any illness or developmental concerns are observed. Parents should not hesitate if they are worried about their child's health or development since early intervention is critical.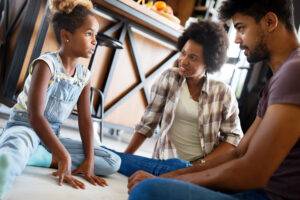 How Pediatricians Help Prevent and Manage Chronic Conditions
Frequent visits with your primary care physician can positively impact the quality of care you receive for your little one, ultimately leading to better health outcomes.
Stay connected and engaged with your physician on a regular basis and you ought to enjoy the following benefits:
Your physician can identify gaps in care and track your child's condition in-between visits.
Identifies potential issues at an early stage, changes in symptoms or medication, and making any necessary adjustments to your child's treatment regimen.
Your physician can guide and support their lifestyle changes, such as dietary modifications and exercise routines, to help you better manage your child's condition.
There will be potential reduction in healthcare expenses related to chronic disease management.
During your routine appointments with your primary care physician, they may administer screenings, checkups, monitor, coordinate treatment plans, and offer educational resources to assist you in managing your chronic condition.
Screenings
Screening your little one for risk factors is an important aspect of preventive care. It detects potential problems early on and allows interventions to minimize their impact.
For example, monitoring and controlling blood pressure help prevent heart disease and stroke.
Checkups
Regular checkups help through monitoring the progression of the disease and any potential complications. You will also be able to discuss your concerns about your child's condition on managing the symptoms and improving your little one's overall health.
Treatment Coordination
The primary care physician is important in coordinating treatment. They work with specialists towards a treatment plan unique to your kid's needs. The process would be medication management, referrals to specialists, and coordinating for medical tests or procedures.
Patient Education
Your primary care physician helps your kid set and guide you towards achievable goals such as blood pressure, cholesterol, and weight. They also provide resources and support to help you meet these goals.
Regular visits with your kid's primary care physician can monitor your progress and make any necessary adjustments to the treatment plans.
Empowering Your Child to Take Charge of Their Health
Your child will become an adult someday, with many responsibilities. And that includes taking care of their own health. It's similar to learning how to drive or manage your finances. You must tell your kids the basics and why it matters.
1. Let Your Child Know About Their Basic Health Information
Let's start with the first step –knowing your basic health information. Your child should at least know the basics of medical information to help you in an emergency.
Their Names and Emergency Contacts
Personal Address and Address of Emergency Contacts
Phone Numbers of Emergency Contacts And Doctors
Details of The Medicine They Take
Their Medical History
Family Medical History
Their Allergies
2. Let Your Child Make His Own Decisions
Encouraging your child to make his own decisions in healthcare makes them more knowledgeable and smarter in their decisions! Ask him what he feels during checkups. You can let him choose his own doctor if he is uncomfortable with the current one.
Also, train your kid to speak to his doctor independently. Sooner or later, he'll go on checkups on his own. That's why your child must be at ease with his physician.
3. Tell Your Child To Always Take Care Of Himself
The last thing you'd want to let your child do is practice how to take care of his own health. To do this, he must be able to focus on self-care.
Maintain a healthy weight (not underweight or overweight).
Eat a healthy diet (lots of fruits and vegetables and other healthy food, such as whole grains).
Get enough sleep.
Exercise regularly.
Do not smoke, drink alcohol, or take drugs.
Follow directions on the meds they're taking.
Avoid missing doses of medicines.
Practice personal hygiene (brushing their teeth, skincare, etc.).
Manage lifestyle.
If your child has an illness such as diabetes or asthma, inform them about what they must do to maintain these. Practicing these small steps can take to manage your child's own treatment in the near future.
Prevention Is The Best Medicine
The significance of preventive care cannot be overstated, regardless of age. To maintain your kiddo's optimal health, it is crucial to obtain age-appropriate vaccinations and screenings, that can preemptively thwart diseases and catch early-onset symptoms.
To identify potential health issues early, it is important to regularly visit your child's primary care provider who can design a bespoke preventive care regimen tailored to your child's needs and carefully monitor their health status over time.
By taking these strategic measures, you avoid the potential health hazards that typically come for your child to stay hale and hearty!
Seeking a trustworthy primary care provider? We at Omega Pediatrics can cater to your child's needs. We provide an array of preventive care plans and services, including early childhood preventive care, well-child visits, pediatric preventive healthcare guidelines, and immunization schedules.
Give us a call for your appointment! We gladly welcome you and your kids at our clinic.