How to find the best Pediatricians for Your Children

Introduction: What to Consider When Picking a Pediatrician?
A pediatrician is a doctor who specializes in the care of children. They are responsible for providing medical services to infants, children, and adolescents from birth to 18 years of age.
Pediatricians have a wide range of responsibilities including diagnosing and treating illnesses, injuries, and developmental problems. They also educate parents on how to best care for their child at home.
Parents should consider a few factors when looking for the right pediatrician. They should take into consideration the location of the pediatrician's office, if they provide after-hours care, if they accept your insurance plan, whether they offer weekend hours or evening hours and if they are open during holidays or weekends. One more thing to consider is whether they offer telemedicine visits or not.
Pros and Cons of the Best Pediatricians in the Area
If you are looking for a pediatrician, but don't know where to start, this article will help you find the best one in your area. The things to consider a pediatrician to be the best and the benefits are more than just their medical expertise.
They are also great listeners
They have a knack for making children feel comfortable.
Great Pediatricians also have the advantage of being able to provide advice on parenting and other family issues as well.
They are usually non judgmental of parenting styles and cultures since these are very varied across cultures.
A good pediatrician has extraordinary hygiene considering that children are not so great at it.
Great Pediatricians will reinforce the good behavior and guide young parents away from unhelpful child raising behaviors
They usually have family experience with relatives or even their own children so they understand things like being late to an appointment because a baby diaper had to be changed or wanting to have all three children seen on the same day for their appointments.
However, there are some cons when it comes to pediatricians.
The first is that they can be expensive, especially if you don't have insurance or your deductible is high.
Another downside is that they might not accept your insurance plan.
Many pediatricians in Atlanta accept children on Medicaid insurance but some do not.
Some Pediatricians may fire families for missing an appointment especially if it is the first appointment.
With the exception of clinics that have very experienced staff, many pediatric office staff do not have all it takes to handle children and young parents and may seem impatient with families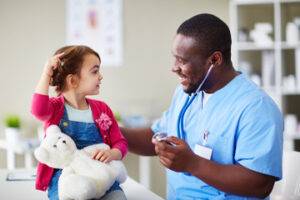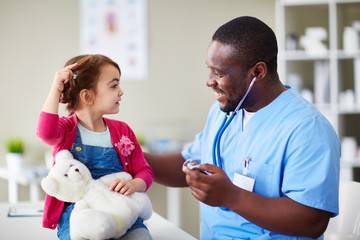 Pediatricians with the Best Parental Feedback Around!
Parental feedback is one of the tools many parents use to choose pediatricians. Since they are the doctors who specialize in the care of infants, children, and adolescents, a good demographic to ask about the said pediatrician is the parents. When the Pediatricians provide the medical care for babies and children, including immunizations, checkups, minor illnesses, and care for injuries, the parents are watching and usually foot the bills. Thus they form a good group of judges for pediatricians.
Thus you should search for terms like "best pediatric clinic near me", "top local pediatrician with good reviews" or "five star ranking pediatrician". While making these searches you have to be aware that high quality pediatricians will not tolerate low quality patients. Parents that leave reviews usually have experienced these pediatricians and have good things to say about them.
Do not limit your search to one review website, scour the web for other sites to compare what they have to say. Usually if multiple sites including obscure ones all rank the pediatrician high, they are likely very good.
How to Find Your Dream Pediatrician with Three Easy Steps?
The first step is to research pediatricians in your area. You can do this by checking out the list of health providers on your insurance company's website or by asking friends and family members who they use.
The second step is to set up an appointment with one or two of the doctors you found on your list. This will give you an opportunity to meet the doctor in person before making your decision about which one will be best for your child. The third step is to choose which doctor
As a pediatrician involved in the care of children from birth to adolescence and beyond, I often tell parents that even though I am a pediatrician, I am doing my best to help ensure the child remains healthy for the next 100 years or more. Pediatricians are trained to diagnose and treat illnesses, prescribe medications, and provide counsel on issues such as nutrition and growth. When you walk in and the pediatrician is talking about things that will impact the child long into adulthood, that. is the first sign that you are in the right place.
Conclusion: How to Find a Great Pediatrician!
In conclusion one can say it is not an overkill to spend weeks scouring the web and reading reviews in order to find a good pediatrician for your family.
Understand that pediatricians are here to take care of your children within reasonable accommodations of the circumstances surrounding raising children including parental anxiety and parental inexperience.
There are always two sides to consider when choosing a pediatrician and every family has to weigh the pros and cons when deciding.
Reviews and feedback do help and one should look at channels beyond Tiktok, Instagram and Facebook.
If you take some of the steps on this article, you are very likely going to land your best pediatrician and you will be pleased that you did.
The top websites like the American Academy of Pediatrics website and the CDC website also have tons of information to help you on your journey. So if this article has not given you everything you need, please visit those websites to fill any gaps.
Question: What tips do you have for readers about finding the best pediatrician for their children and family? Leave a comment here for other readers to learn from.
If you like this article send it to a friend or family member. I believe it can help anyone anywhere in the world.